This will be my second last update as your campaigns director! What a journey it has been. I will leave reminiscing to my April update. Let's talk about what has happened in March!
Count on Our Vote
The Count on Our Vote campaign really came to the forefront this month, with tabling and many different events! The results have been stellar – we collected almost 500 pledges and were out in the quad 2-3 times a week for all of March! We were able to engage with a lot of students and get people excited about the upcoming election on May 9th.
We had two main events this month – the Oak-Bay Gordon Head Debate, and the South Island Candidates Fair.
For the debate, we had lively discussion between Andrew Weaver, Bryce Casavant, and Alex Dutton. The event drew 150 students and community members creating an awesome atmosphere in David Lam Auditorium. We live-streamed the entire event and about 40 people joined us from home. If you add up all the minutes spent watching, there are 70 full hours worth of view time! We will definitely be doing more live video.
Check out the live stream yourself.
The candidates fair was also a great time. To encourage interaction with the candidates, we did a $100 giveaway for students who received a signature from each of the stations! Although the NDP and Green's showed up in force, the Liberals did not attend despite much lead time on the invitation. I won't speculate on reasons, but it was certainly a missed opportunity for them! A steady stream of students stopped by, and it seemed like many of the candidates had great interactions.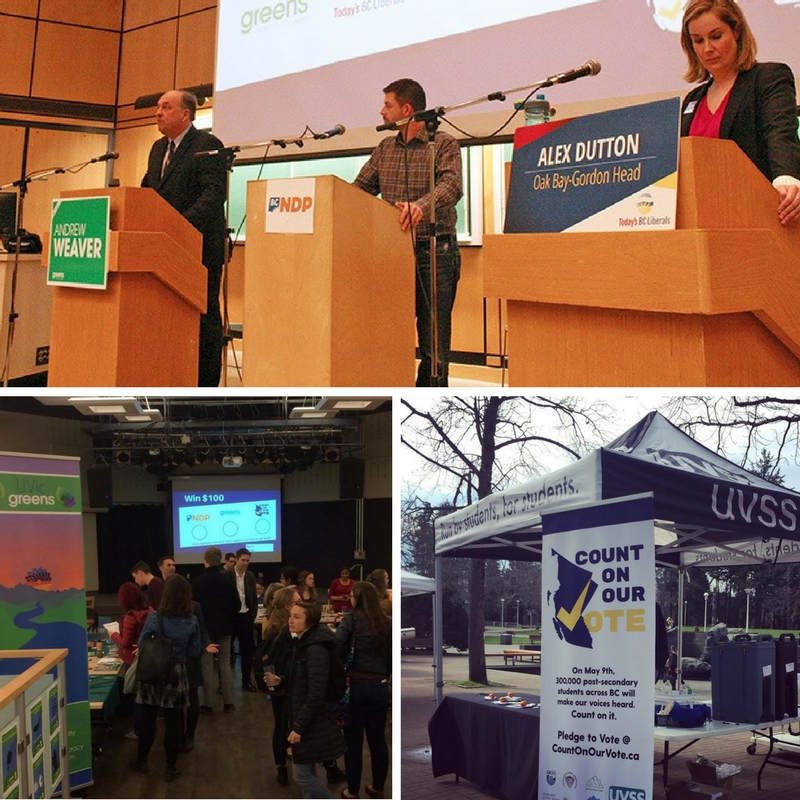 Training
Another large portion of my time this month was spent training the incoming Director of Campaigns and Community Relations Anmol Swaich. Anmol has shown an eagerness to learn the ins and outs of the role, and I am looking forward to the awesome initiatives she is planning for her term!
What's Next?
My very last month will be mostly wrapping things up, but there is one thing to look forward to. We have worked hard with Elections BC and will be hosting Advance Voting for the provincial election on Thursday, April 13th! This is an awesome opportunity to vote before heading back home, and will be very convenient since it is in the SUB Upper Lounge from 8am – 8pm!
Make sure you invite your friends to the event.
Good luck on exams! I know I am excited to be almost done mine 🙂
https://uvss.ca/wp-content/uploads/2020/07/website-uvss-logo-neg.svg
0
0
campaigns
https://uvss.ca/wp-content/uploads/2020/07/website-uvss-logo-neg.svg
campaigns
2017-04-07 17:52:49
2017-08-22 11:54:30
March Campaigns Updates