---
The SUB is OPEN 7 days a week!
Follow us on FACEBOOK and INSTAGRAM @thesub.yyj for deals, info & more!
---
UVSS Handbook GIVEAWAY – Follow our Instagram & Facebook page and keep an eye on it for giveaway details!
Here's how to win:
1) Follow @thesub.yyj Instagram account!
2) Like this post! ✔️
3) Follow @cinecentafilms, @felicitas_pub, @health_food_bar, @subtext_uvss and @zapcopy Instagram accounts!
4)Tag a friend that you'd want to take in the comments! Easy as that!! For more chances to win:
– Check out our Facebook post! 😊
All winners will be announced at the end of the day on Wednesday, September 12th. Good luck!
---
---
The SUB is home to 9 businesses run by students, for students:
Bean There Cafe
Catering & Conferences
Cinecenta Theatre
Felicita's Campus Pub
HFB (Health Food Bar)
Munchie Bar
The Grill
SUBtext
Zap Copy
It's a campus hub for info, services, study spaces, advocacy groups & support.
Food. Coffee. Print Services. Office Supplies. Textbooks. Beer. Movies.
#itsyourSUB
---
Looking for a flexible job to work around your school schedule? Check the JOB postings here.
---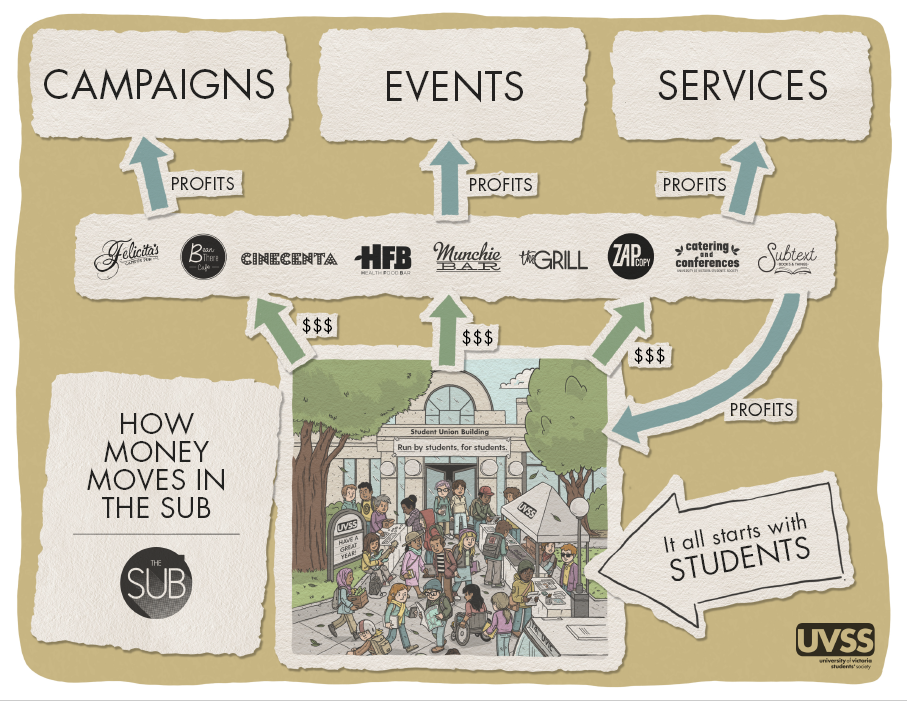 University of Victoria
3800 Finnerty Road
Victoria, BC
V8W 3P3