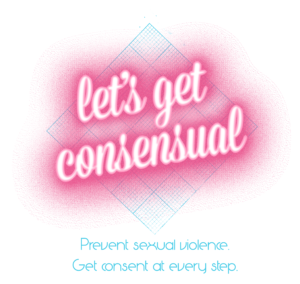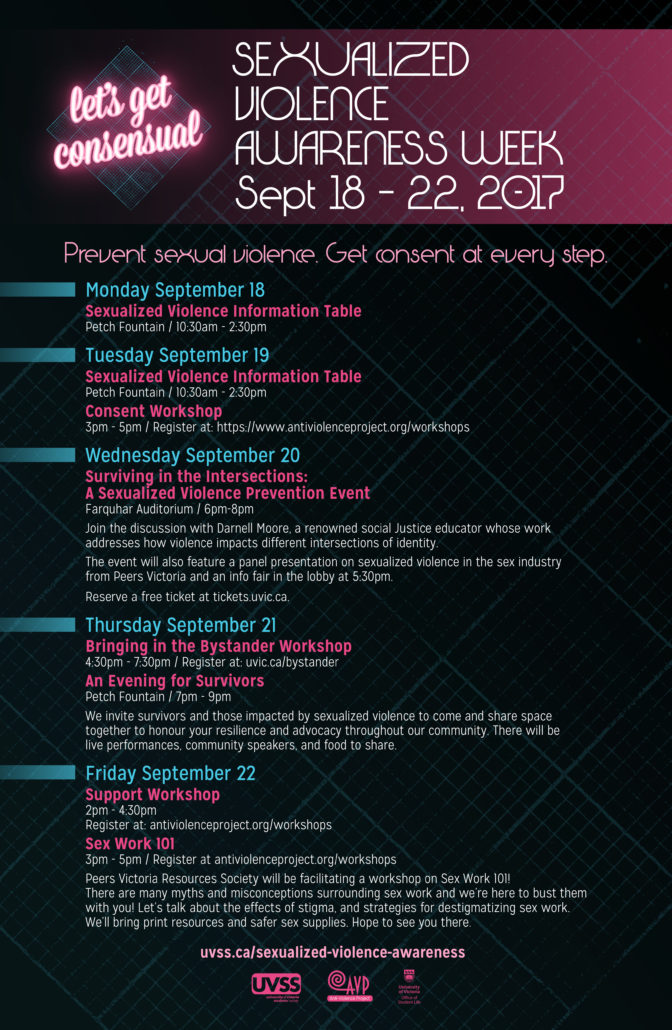 ---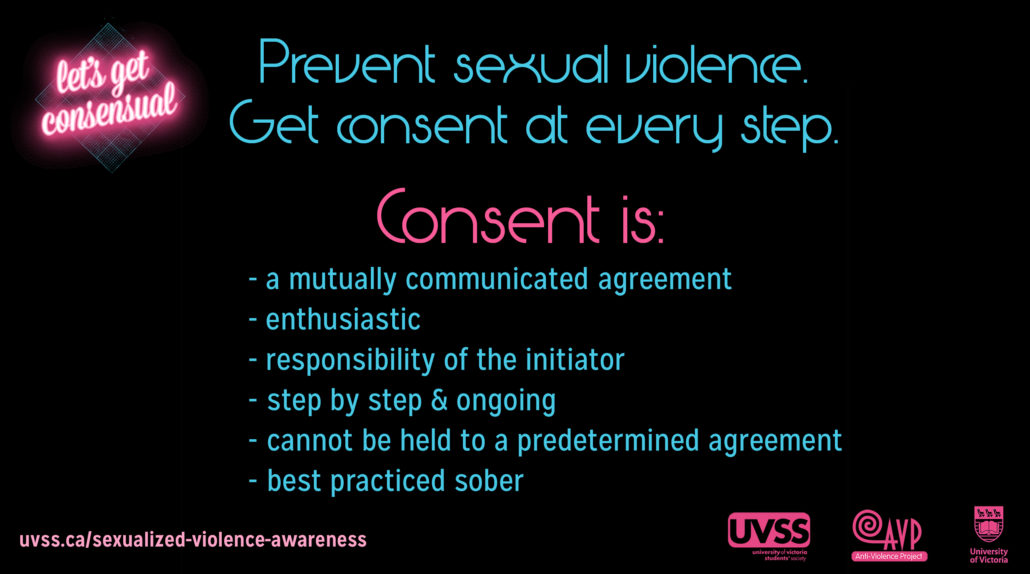 Summary
Rape culture is a massive problem on campuses across the world. Students in BC recently celebrated a huge win by successfully lobbying the government to pass Bill 23: Sexual Violence and Misconduct Policy Act. Under this legislation, universities are now required to develop policies on sexual-assault response – but there is still much more to be done! The Let's Get Consensual campaign promotes consent culture on campus and speaks out against the prevalence of rape culture and sexualized violence on campuses across North America.
Like Let's Get Consensual on Facebook for regular updates!
What We Do
Outreach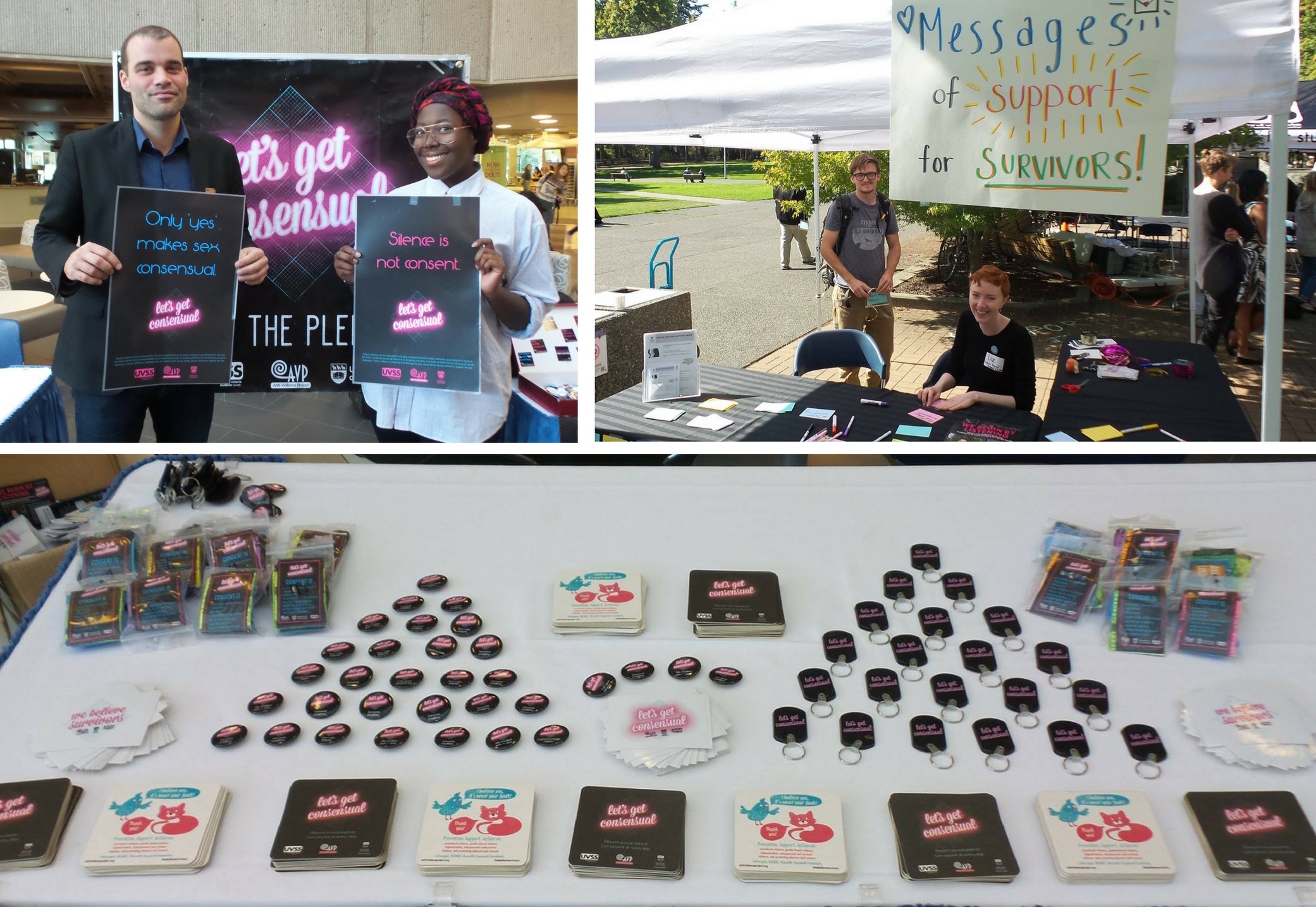 Throughout the year, the UVSS will be out around campus engaging students on the topics of sexualized violence. We are working to make consent the norm, and encouraging students to practice it in not just sexual contexts, but in the way they conduct thier day. Join us to #TakeThePledge and grab some awesome swag items!
Our next outreach event is: TBA
Events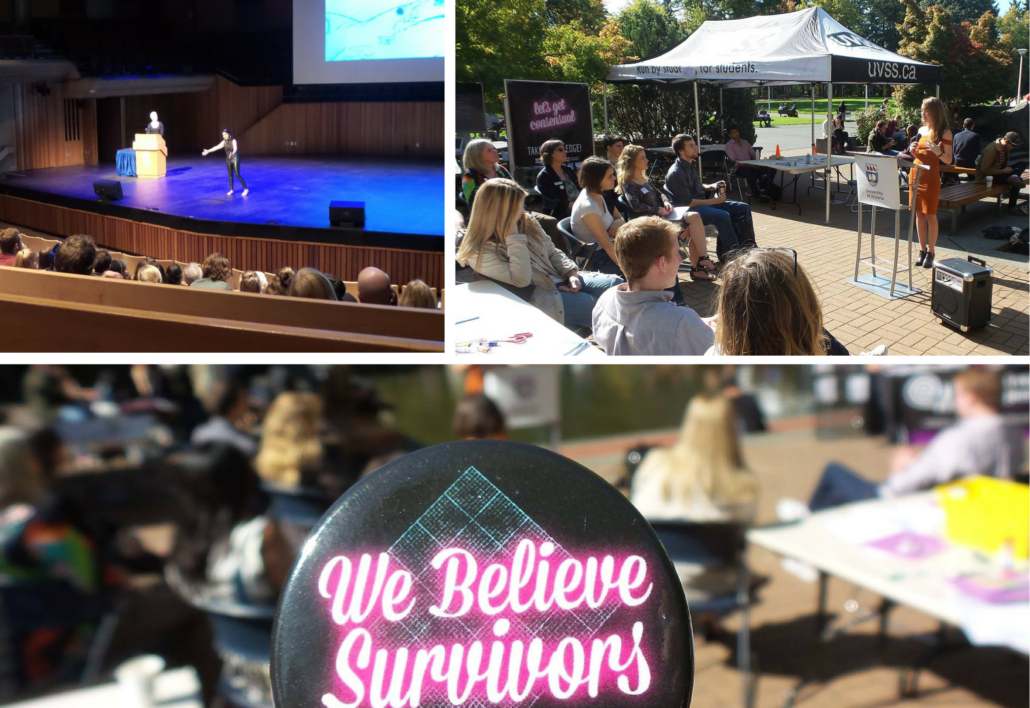 Sexualized Violence Awareness Week
In the second or third week of September, the UVSS, UVic, and AVP host sexualized violence awareness week. The week includes info fairs, social media activism, workshops, speakers and other fun activities. Make sure you check it out next year!
Partners
The Anti-Violence Project
The Anti-Violence Project has been a key partner in the Let's Get Consensual Campaign partnering, on events, providing key resources, and workshops. They also provide a support room for folks! Make sure to check them out downstairs in the SUB in B027.
Support Line: 250 472-4388
Office Line: 250-721-8080
Website: antiviolenceproject.org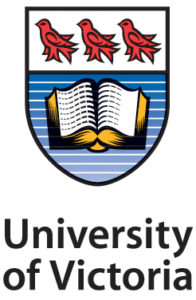 The University of Victoria's Office of Student Life
The Office of Student Life (OSL) is another key partner in the Let's Get Consensual Campaign. Their Student Life Leadership Program's Consent Advocates and Relationship Educators (C.A.R.E. team) provide important advocacy and awareness programing around consent and healthy relationships on campus. The OSL also offers 3-hour bystander intervention training to provide students with the skills to recognize and safely intervene on and prevent instances of sexualized violence. More information and registration for "Bringing in the Bystander" can be found atwww.uvic.ca/bystander . For more on all of the Office of Student Life's initiatives, check out their website: www.uvic.ca/services/studentlife/initiatives/sexualized-violence