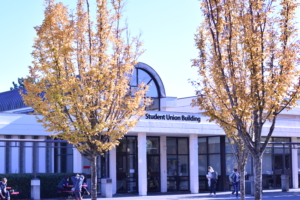 Come say hi!
The Board of Directors offices in the SUB (opposite Munchie Bar) are the place to go for:
Talking to your elected directors.
Volunteering for campaigns or for the Food Bank and Free Store.
Joining a UVSS committee.
Getting a FREE student handbook, pens, mugs, sunglasses, etc.
Directions if you are lost.
Good times!
ABOUT
All undergraduate students at the University of Victoria are members of the UVic Students' Society (UVSS). Founded in 1964, the UVSS is a social justice based non-profit run by students, it is separate from the University, and it runs a successful social enterprise that includes nine unique businesses. The students' society exists to provide advocacy, representation, services, and events for its members. The UVSS works on issues affecting students, such as post-secondary funding, public transit, sexualized violence, campus sustainability, student employment, and affordable housing.
OUR MISSION
Our mission is to be a leader in providing high-quality accessible services, advocacy and events that enhance the student experience, and to build a campus community that embodies our values.
OUR VISION
Our vision is to see full student engagement in our core components of advocacy, events, services, businesses and society governance.
VALUES
Our values are what we stand for. They underlie everything that we do and guide how we make decisions, perform our work and work with each other.
These values are the primary driving forces behind all that we do:
Good Governance
We take our responsibility to ensure the long-term stability and health of your students' society very seriously. To us this means ensuring participatory democracy and transparent decision-making, being prudent and judicious with your student fees, and being accountable for our actions.
FUN!
We value fun in everything that we do. To us that means creativity, passion, spirit, lightheartedness, and not being institutional. Campus should be a fun place to be and students should feel excited and engaged about the work their students' society does.
Excellence
We aim to be a leader not just among student societies, but among non-profits – and we pursue this goal through excellence. To us that means fostering creativity, driving innovation, promoting a learning culture, investing in our people, and by taking a compassionate approach to everything that we do.
Service
Service to students is why we exist. Our student-centered approach drives us to provide services that are high-quality, relevant, and meaningful to students. We provide essential services to all members of the UVSS such as the extended health and dental plan, the UPASS, and the Food Bank and Free Store
Social Justice
Whether we are advocating for student issues or putting the profits from our businesses back into services for students, the UVSS works every day to ensure no person is left behind. We work with campus and community partners to raise awareness and empower students to create change. To support this work, we will create inclusive and supportive spaces for student collaboration.
---
THE SUB
The UVSS operates the Student Union Building (SUB) which houses nine unique businesses run by students, for students. These businesses are social enterprises – businesses run for a social good. All profits made at the following student-owned businesses go back to students in the form of advocacy, events, and services:
Bean There Cafe – Grab & go food, Ali Baba pizza, sushi, bagels, muffins, breakfast sandwiches, frozen yogurt & coffee/tea.
Catering & Conference Services – A convenient booking experience for your meeting; arrange both your room requirements and all of your catering needs!
Cinecenta Movie Theatre  – An eclectic mix of independent, documentary & foreign films, special events, as well as the best of Hollywood & damn fine popcorn!
Felicita's Campus Pub – Taps, food, live music & events.
The Grill – Halal-certified shawarma, breakfast, dahl, curries, burgers, pasta & more – vegan & gluten free options, too!
HFB – Health Food Bar – House-made lunch items, wraps, sandwiches, salads, fresh juice, smoothies, veggie/vegan cuisine & gluten free options.
Munchie Bar – the best coffee on campus; vegan & gluten-free baked goods & ciabatta sandwiches.
SUBtext – Books & Things. Buy & sell your textbooks/books, plus magazines, cards, gifts, bike accessories, snacks & drinks!
Zap Copy –Digital printing, office supplies, past exams, button making, coil binding, photocopying, laminating, custom mugs, faxing, and poster distribution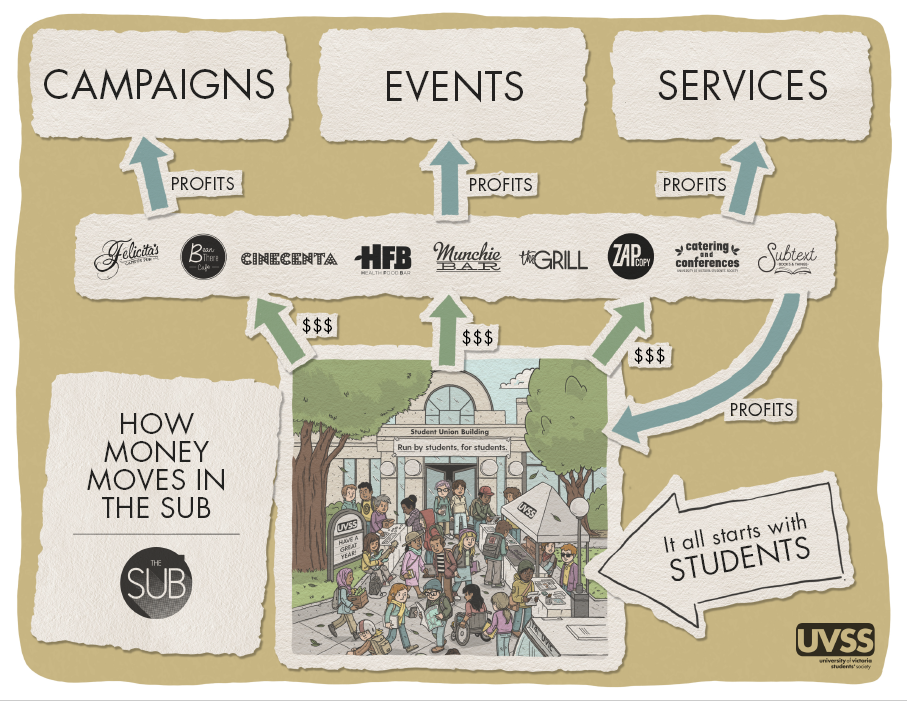 GOVERNANCE
A democratically elected student board of directors governs the UVSS, runs all of its campaigns and events, manages the SUB, and oversees approximately 200 employees. The Board consists of eleven volunteer directors-at-large, an international student rep, five advocacy group representatives, and five full-time lead directors— the Director of Campaigns and Community Relations, the Director of Student Affairs, the Director of Finance and Operations, the Director of Events, and the Director of Outreach and University Relations.
Elections for these positions take place in March, with the exception of reps for the Gender Empowerment Centre, the Pride Collective, the Native Students' Union, the Students of Colour Collective, and the Society for Students with a Disability (SSD). These groups elect their reps at the general meetings of each advocacy group.
The Board meets twice each month throughout the year and all students are welcome to attend. They generally start at 6pm, although exact dates, times, and locations can be found in the agendas. Email outreach@uvss.ca for more info!
Here's the Board meeting schedule for the 2020-2021 Board term!
Agendas and minutes can be found here.