October 7th, 2022
British Columbia New Democratic Party
Parliament Buildings
Victoria, British Columbia, V8V 1X4
Dear BCNDP,
We, the students of the University of Victoria, are calling on your government to take rapid and radical action to address the ongoing housing crisis. New and current students are unable to access education or are being pushed out of school due to the high costs of living. Our food bank has seen record usage, and many enroll in fewer classes to work more while in school. Many students can no longer afford to attend school in Victoria, leading to lower enrollment and a 16 million dollar budget deficit for UVIC. This decrease has already resulted in service cuts for students. These additional stressors are compounded by the reality that we are on a dying planet, that we are in a pandemic, that we are in a financial crisis, and that we will never be able to afford our own homes in the places we grew up in. The housing crisis furthermore threatens a key provincial export: education. We ask you to address the housing crisis through the following policy initiatives, which we believe will make housing more affordable for more people and curb displacement.
Increasing Housing Debt Capacity for Universities
UVIC has enough land to create adequate housing for students (Figure 1). Debt capacity is the main barrier to enabling them to construct housing. According to UTILE, students pay more in rent than the general population, dragging up the market rate of rent. Allowing more students to live closer to classrooms would reduce the overall emissions from UVIC and foster a more vibrant student community. It could also allow for a more stable source of revenue than relying on international student tuition fees, which have risen disproportionately over past years. The BCNDP should increase debt capacity for universities with the goal of housing 30% of enrolled FTE students at every university and college by 2035, in line with Albertan universities (Alliance of BC Students).
Rapid Increase To The Supply of Affordable, Public Rental Housing
Addressing the housing supply is critical for addressing the housing crisis for students. As the majority of students are renters, and according to recent surveys, pay higher costs of rent than the general population (UTILE). The current rental vacancy rate, which is 1% in Victoria, means that students are left with few options for housing and opens up young renters to exploitation. Addressing supply is important to ensure students have options near their schools. We ask that the BCNDP allocate funding in the form of interest-free loans, loan guarantees, and grants to non-profit housing providers with a target of providing housing for 40% of enrolled FTE students at every university and college by 2035. This housing should be built with a whole-of-community approach, including senior and family housing.
Vacancy Control
One factor that has led to the rapid increase in the cost of rent in Victoria is the transient student population which enables landlords to have high turnover. This turnover is incentivized by our current system, which ties rent control to the tenant, not the unit. This promotes renoviction. We ask that the BC NDP tie the rent to the unit, in tandem with a rapid increase in the housing supply, to protect tenants. It is crucial that vacancy control is attached to a rapid and coordinated increase in supply to avoid the pitfalls around supply issues that can arise from vacancy control. Nevertheless, we see vacancy control as a necessary aspect of reigning in the hyper-inflated rents being driven up by both REITs and "Mom and Pop" landlords. At this time, 21% of British Columbians are contributing more than 50% of their incomes to afford rent and utilities. We can no longer afford to subsidize our landlord's luxury lifestyles.
Tenancy Protections For Young People
The province must do more to educate tenants on their rights and to hold landlords accountable for unsafe rentals. Tenant support services are underfunded and overworked, and the lengthy and complicated process of holding landlords accountable through the Residential Tenancy Board is highly daunting for students and community members who do not have support. We need improved resources and services to help first-time, and student renters navigate their tenancy. We ask that the BC NDP increase funding to the Residential Tenancy Board to speed up the process of holding landlords accountable and provide subsidies to organizations which provide tenant advocacy.
Collective Bargaining for Tenants
As it stands, tenants do not have an independent, tenant-led voice to represent their interests to their landlords. Providing a framework for tenant unionism and protecting the collective bargaining rights of tenants could protect the living conditions of people living under predatory corporate landlords and REITs.
Remove Zoning Controls From Municipalities
For the last 75 years, municipalities have largely worked against increasing the housing supply. In concert with a significant expansion to non-profit and co-op housing, the Province must restrict municipalities' abilities to halt housing construction. We ask that the Province allow by-right construction of four-storey townhouses and apartments at market-rate, and six storeys for non-profit affordable housing providers, with additional floors granted in exchange for affordability and service provisions.
Housing First, Now, Forever
Housing is a human right. We must work towards a future where there is no homelessness in British Columbia. We have the resources and the space. What is needed now is the political will to address this crisis with the urgency it deserves. There should be no qualifiers for access to housing.
While the situation for students is dire, the housing crisis has disproportionately affected those with less privilege than university students. The ongoing opioid crisis, the pandemic, and the climate crisis disproportionately harm our unhoused neighbours. Indigenous people are unhoused at rates which far exceed settler homelessness rates, and racialized settlers are also overrepresented in the data. (BC Non-Profit Housing Association). We condemn this social violence. Housing is a human right. This shortage and this crisis are problems with solutions. We are asking you to solve them radically and rapidly. It is time for the government to work like the rent is due because, for us, it is.
Expectantly,
The University of Victoria Students' Society
---
Works Cited
BC Non-Profit Housing Association. "HOMELESS COUNT IN METRO VANCOUVER." Vancity Community Foundation, 2020, https://www.vancitycommunityfoundation.ca/initiatives/2020- homeless-count. Accessed 29 September 2022.
UTILE. "Nouvelle de l'UTILE – FLASH survey reveals alarming data on student housing in Canada." Unité de travail pour l'implantation de logement étudiant, 1 September 2022, https://www.utile.org/nouvelles/flash-2021. Accessed 27 September 2022.
---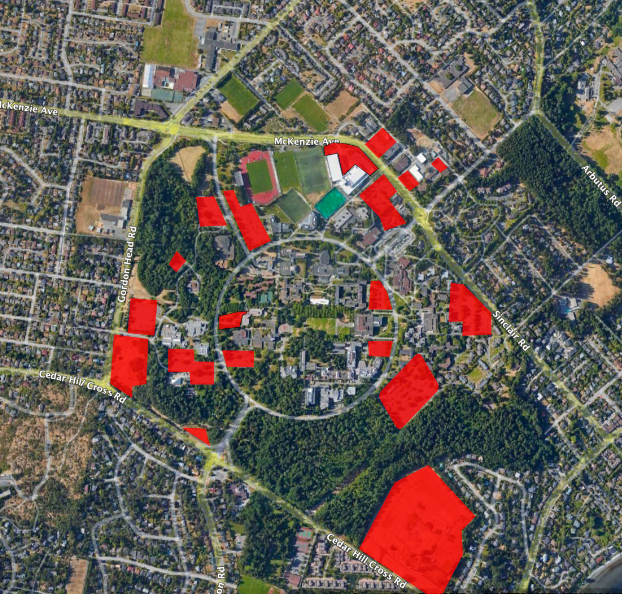 Figure 1: Map of land appropriate for UVic to convert to housing. Much of the land lies in Oak Bay, a municipality that has historically blocked student accommodations and student services.