When:
October 21, 2020 @ 6:00 pm – 7:30 pm
2020-10-21T18:00:00-07:00
2020-10-21T19:30:00-07:00
Contact:
Marran Dodds, Director at Large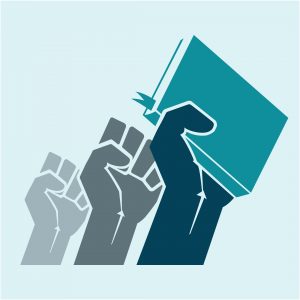 We are excited to announce that our Learning Allyship & Solidarity Book Club is officially up and running!
What is the purpose of the club?
The world is going through some big and necessary changes right now. There is no better time than right now for us all, especially us white & non-BIPOC folks, to look inwards and educate ourselves about racism and white supremacy in our communities.
We thought it would be salient to have a book club that engages with and focuses on novels written by individuals who are knowledgeable about race, class, and other forms of institutionalized oppression that overwhelmingly affect BIPOC communities.
What books are we reading?
All the books we will read are available in paperback, audiobook, and e-book. The first book we read in the book club was Me and White Supremacy– Layla F. Saad. The book we are reading now is: How To Be An Anti-Racist– Ibram X. Kendi
The next books on our list are:
Girl, Woman, Other –  Bernardine Evaristo
The Hate U Give – Angie Thomas
And more…
When will we meet?
The Learning Allyship & Solidarity Book Club will meet once per month over Zoom! Our next meeting will be on October, 21st, 2020 from 6 pm to 7:30 pm.
After we read our book each month, we're going to have a guided conversation that focuses on learning and unlearning internal biases as they relate to race, white supremacy, and how we view the world today.
How can I get involved?
 This is the easy part… Click this link: http://ow.ly/guPT50ATKyx
Or contact Marran Dodds at marran.dodds@telus.net
It will direct you to a Survey where you write in a little information about yourself, including your email! Within the next few days, another email will be sent your way with more information about how to get started. However, to truly begin, get your hands on our first book and start reading!
Disclaimer:
To be a part of the book club and our monthly discussions, it's up to you to source the book yourself; however, if folks cannot afford the books we'll be reading, the UVSS is happy to provide you a copy. We have a limited amount of each novel.
Additionally, the conversations we'll be having monthly are undoubtedly going to be overwhelming, emotional, and at times, make you question many truths about yourself, and the way you view the world. UVSS Events is partnering with the Peer Support Centre to ensure that someone trained will sit in on our conversations to make folks feel safe. Resources for further help will also be provided.
We are so excited to start having these conversations together. Click this link to sign up for our official Learning Allyship & Solidarity Book Club Newsletter to join us: