When:
September 10, 2021 @ 12:00 pm – 4:00 pm
2021-09-10T12:00:00-07:00
2021-09-10T16:00:00-07:00
Where:
Student Union Building
3800 Finnerty Road
Contact:
Q Roxas (they/them), UVSS Director of Events
On Friday, Sept 10: Bands on the Roof! From 12-4pm, catch some local musicians performing from on top—yes, on top—of the Student Union Building (SUB)!
We'll also be live-streaming on our Facebook in partnership with CFUV.
Check out our amazing line-up and their bios!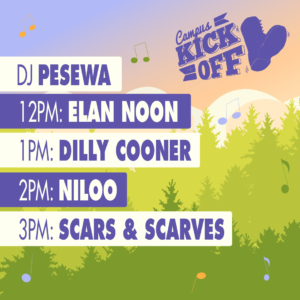 Dj Pesewa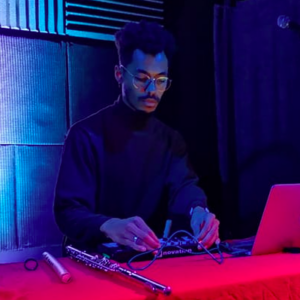 Jeffrey Ellom (Pesewa) is a settler of Ewe, Polish, and Western European ancestry who grew up on unceded Syilx Okanagan territory and has lived on the unceded territories of the Lekwungen speaking peoples since 2014. Through the media of music, visual art, and video, he works to build upon the artistic legacies of the Ewe people.
12 PM: Elan Noon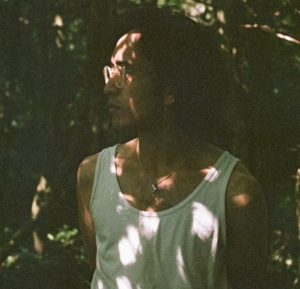 After spending the past decade playing in indie bands such as Jons and Loving and studying jazz and classical music at UVic, Noon has culminated a diverse musical language weaving rich harmonic colours into everyday folksong. With lyrics exploring the framework of interpersonal relationships and existential uncertainty, Noon obverts details of the mundane into raw tracings on the world's design. In 2017, they released their debut EP, 'Have a Spirit Filled', through the Parisian label, Field Mates Records. Their debut LP, 'Colour Story', was self-released in November 2020, a few months into the global pandemic. A new collection of pocket-sized songs is set to be released by the end of 2021.
Bandcamp/ Spotify / Instagram / Facebook 
1 PM: Dilly Cooner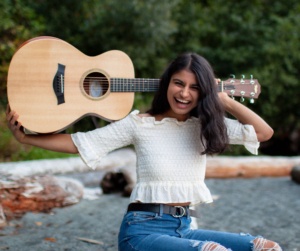 Singer/songwriter, Dilly Cooner has been singing for her whole life. She is entering her third year in the Biology and Psychology program and could not be more excited to be reunited with the UVic community after so much time apart. During January 2020 Dilly released her first EP "Picking Weeds from a Garden of Roses" a collection of songs that she wrote around the age of 16. During July 2020, Dilly released the single "Over Easy" that was written, recorded, and produced during quarantine. Dilly could not be more excited that live music has returned to UVic and cannot wait to share her music with the UVic community at Bands on the Roof. Dilly's music can be found on all streaming platforms as well as instagram, tiktok, and YouTube. New music coming very soon.

2 PM: Niloo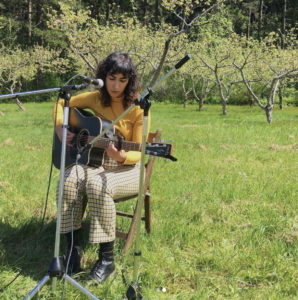 Niloo is a singer-songwriter and visual artist based in Lekwungen Territory (Victoria, BC, Canada). Exploring themes of hybrid identity, alienation and heartache, her spin on indie dreampop takes inspiration from both western alternative-folk and Persian musical traditions, morphing them into a sound that is uniquely otherworldly.
Instagram / Facebook / Bandcamp
3 PM: Scars & Scarves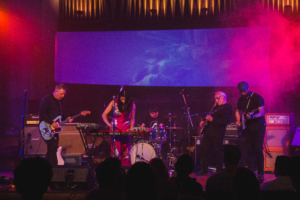 Scars & Scarves (S&S) are a rock'n roll band from Victoria, BC, Canada. We dabble in all the sounds – a little heavy, a little quiet, a little atmospheric. Up until now we haven't been international jetsetters but, collectively, we've paid our rock'n roll dues. Live we're Stereolab and Lou Reed's love child, but Michael Bay's nightmare (f*ck that guy!). We released debut album Chimes At Midnight in 2011, The 5ive Dada EP in 2018 and then our second album in 2020 on vinyl – Sphinx Pinastri. Sadly, the pandemic has put this
album release into a holding pattern until Fall 2021.
Members:
Garrett McClure (he/him) guitar/vocals
Annalea Sordi (she/her) keys/vocals
Don Chessa (he/him) bass
Tim Dubroy (he/him) guitar
Nevada Brown (he/him) drums
Website / Bandcamp / Facebook / Instagram / Twitter